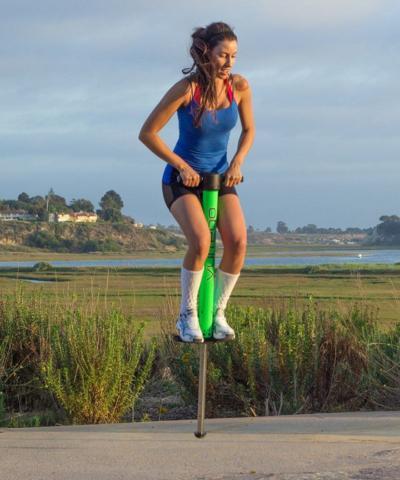 We are the official partner and re-seller of Vurtego Pogo Sticks. We strongly believe that this product will give you back the joy of your missing childhood.
Vurtego Pogo Stick is a top-quality pogo stick that will not only put a smile on your face but will also give you a lot of aerobic exercises!  
The patent air spring the V4 is using will launch you high in the air, only with the air inside the cylinder. After the use, you can just let the air out, and your Vurtego Pogo Stick is ready for transportation! How awesome is that?
The medium V4 goes from 52″ in height during bounce mode to 34″ in travel mode. 
Made in California, US

.
You can browse below, or please ask a member of our team to assist you.
We provide the cheapest speed shipping possible.
Vurtego Pogo Sticks have fast shipping to Norway, England, Scotland, Wales, France, Belgium, Portugal, Netherlands, Denmark, Ireland, Sweden, Finland, Spain, Italy, Greece, Cyprus, Czech Republic, Poland, Hungary,  Slovakia, Croatia, Ukraine, Russia, Turkey, Australia, United States of America, Canada New Zealand, South Africa.
Please read our Delivery Terms to check your country's shipping rates.
Sorry, there are no products in this collection